Roll to Roll Seamless laser direct imager double-sided 『RD3000FB』
Achieves seamless double-sided simultaneous
exposure of long FPCs
2022 Our research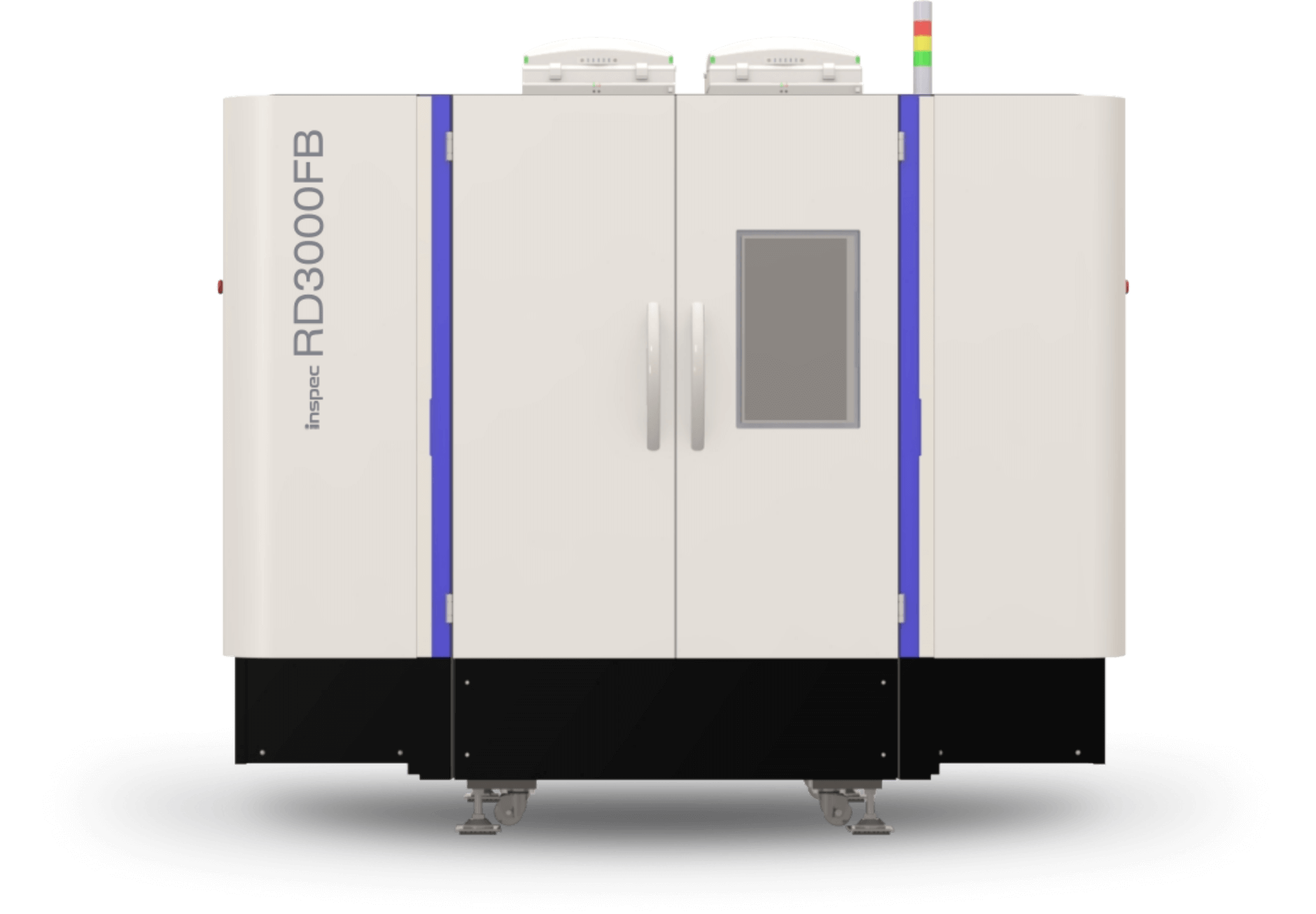 RD3000FB Exterior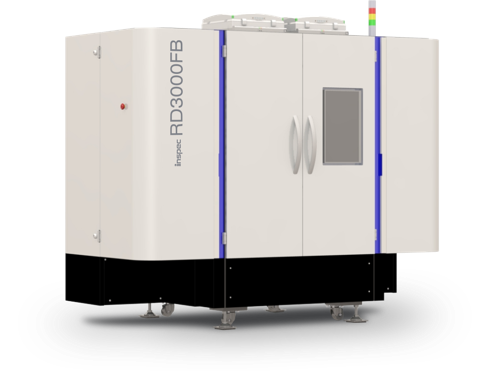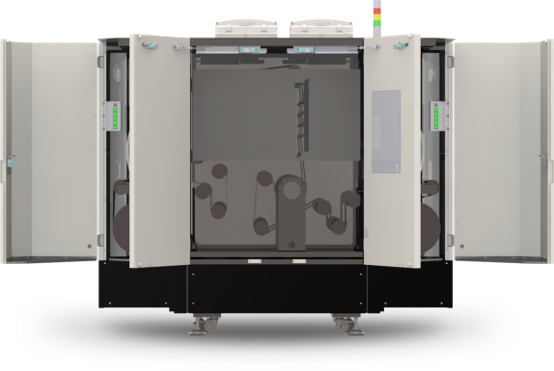 Features of RD3000FB
Simultaneous double-sided exposure expands the benefits

Double productivity

by double-sided exposure

No need to align

the front and back

No misalignment on the front and back surfaces

even with long FPCs

Individual 2D codes

can be exposed on all pieces on both sides

Smallest-in-class

footprint
A new form of long FPC seamless exposure
The RD3000FB Series inherits the seamless, high-quality, high-speed exposure of long FPCs from the RD3000 series, and furthermore, it is the most advanced exposure system that realizes simultaneous exposure of both front and back sides of FPCs.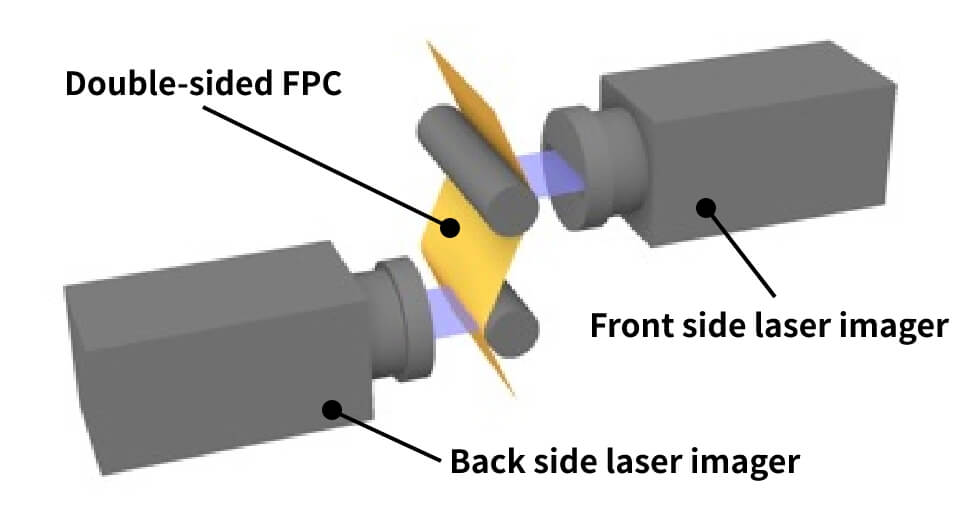 Image of double-side exposure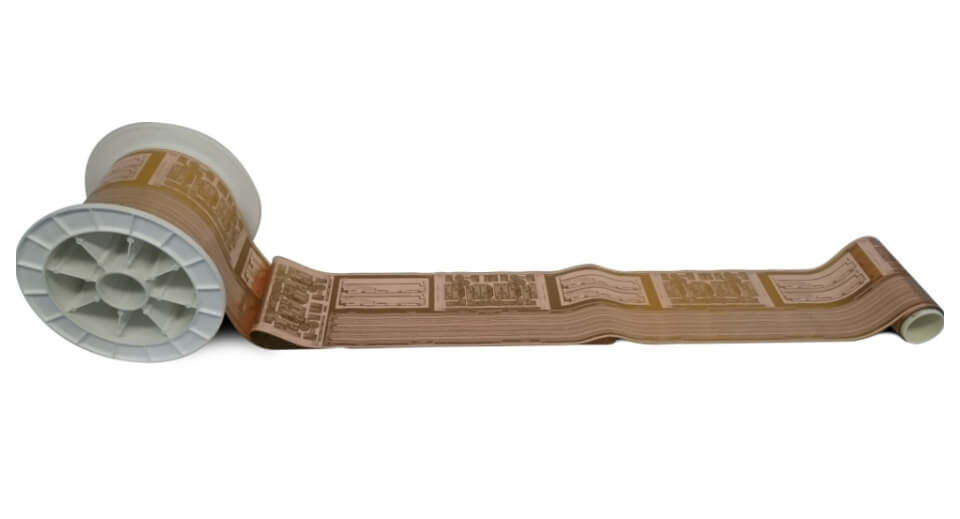 Exposure Sample
Examples of BMSs with the most inquiries
Battery management systems (BMS) are currently in the greatest demand as a replacement for FPCs in wiring harnesses used in automobiles.
The drive battery used in electric vehicles consists of dozens to hundreds of battery cells per vehicle, each of which is connected by wiring to control and monitor charging and discharging.
In the past, all cells were connected by wiring harnesses, but these are being replaced by FPCs to reduce weight and improve productivity.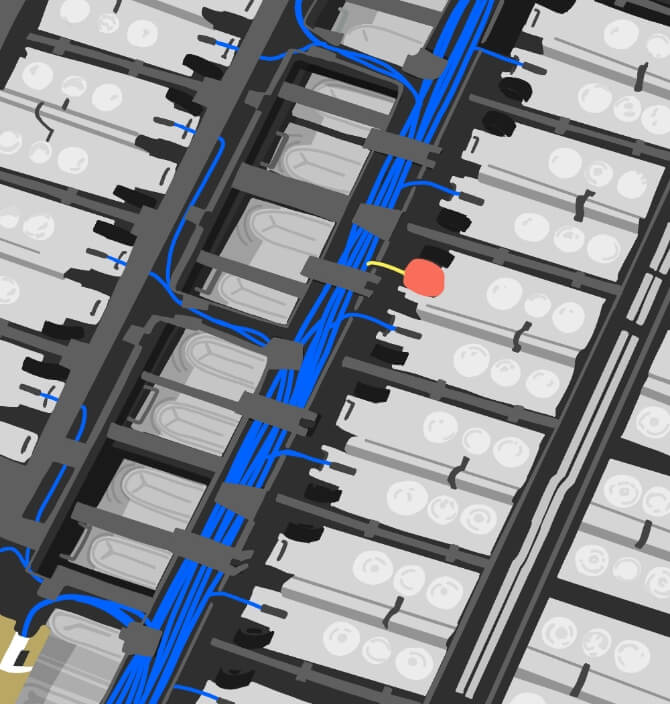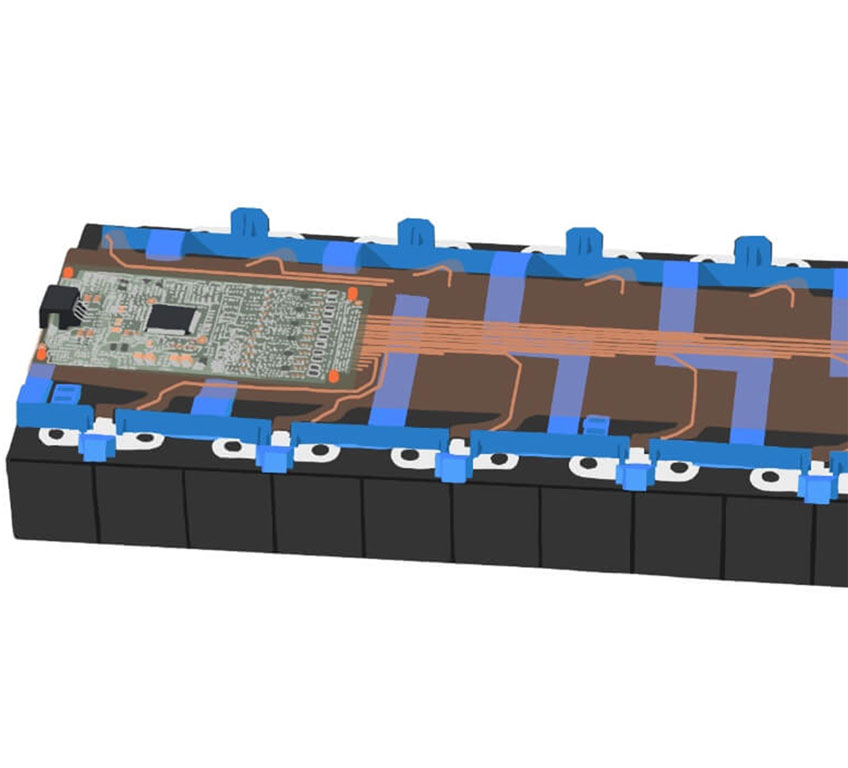 Battery management systems (BMS)
Differences from conventional products
【 Conventional method 】

Exposure systems for electronics can only expose long FPCs in 60cm x 60cm units at the maximum, and since long FPCs are exposed using the step-and-repeat method, there is a quality risk at the joints. For double-sided FPCs, this process must be repeated twice, and there is a risk of misalignment between the front and back sides.
RD3000

Seamless continuous exposure of up to 6 m is possible without stopping the conveyance of material, so no seams exist. In double-sided FPCs, it is necessary to expose the front and back twice with respect to the alignment mark, and there is a risk of misalignment. This means that there is a risk of misalignment.
RD3000FB

Long seamless exposures are applied to both sides simultaneously, doubling productivity. No misalignment occurs because the same amount of positional compensation is applied to the front and back sides simultaneously.
Specifications
    
RD3000
RD3050
RD3000FB
RD3050FB
Maximum exposure length
6m(It is possible to exceed 6m depending on the conditions)
Maximum material width (exposure width)
260mm(250mm)
520mm(500mm)
260mm(250mm)
520mm(500mm)
Double-sided/Single-sided
Single-sided
Double-sided
Exposure speed
20~35mm/s
Recommended photosensitive film
RD-2015(Showa Denko)、RD-1215(Showa Denko)
ADH-156(Asahi Chemical)、ADC-151(Asahi Chemical)、AM-930(Elga Europe)
Minimum line / space
70μm/70μm
Light source wavelength
405nm Semiconductor laser
Data entry format
RS-274X
Power-supply voltage
AC200V 20A
Compressed air
Oil-free & dry air 0.5MPa
Width x depth x height
2,400×1,310×2,115mm
2,550×1,650×2,115mm
2,550×1,310×2,115mm
2,550×1,650×2,115mm
Weight
1,950kg
2,500kg
2,150kg
2,700kg
Skip this area in foreign language(No translateion required)

Seamless exposure of long FPCs.




Different 2D codes can be added piece by piece.




Smallest footprint in its class.